Hoi An Bike Rental was incidentally founded at a small bistro beside the Hoai river of Hoi An. After a football match, Khang and Minh – close friends from high school but haven't met for a long time – had some beer and talked about work, family and future plans. With many years experience of working as a bus driver carrying travelers around Hoi An, Khang found that there are many vendors renting out motorbikes in Hoi An. Yet there has not any reliable vendor providing a premium rental service of high-quality bikes, good helmets, medical kits, 24/7 customer support… which helps travelers in Hoi An have more relaxing and safer experiences for their trips in Hoi An.
With love for the homeland and a great desire of helping travelers have wonderful trips in Hoi An, Khang and Minh immediately got what to do next. After some more beer, Hoi An Bike Rental was born…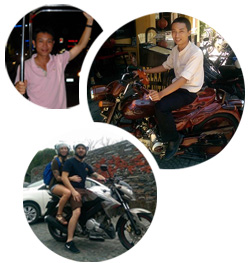 At Hoi An Bike Rental, our mission is to contribute to bringing you relaxing and memorable trips in Hoi An. For that, we provide our customers a premium motorbike rental service with high-quality bikes, handy good-quality accessories and a dedicated customer service. Driving our bikes, you will be relaxed to discover the beauties of Hoi An.
Together with Hoi An Bike Rental, you will have an amazing trip in graceful and delightful Hoi An.