Hoi An Bike Rental was founded at a small pub beside the Hoai river in Hoi An. After a football match, Khang and Minh – close friends from high school but haven't met for a long time – had some beer and talked about work, family and future plans. With many years experience of working as a bus driver carrying travelers around Hoi An, Khang found that almost all motorbike shops in Hoi An do not provide customers with reliable bikes and happy service. Khang and Minh have agreed that there is something wrong with this.
With love for their hometown and a great desire to help travelers have amazing vacations in Hoi An, Khang and Minh knew what they should do. After some more beer, Hoi An Bike Rental was born…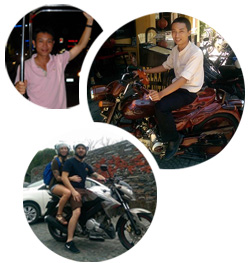 At Hoi An Bike Rental, our mission is to contribute to bringing you relaxing and memorable trips in Hoi An. For that, we provide our customers an excellent motorbike rental in Hoi An with perfect-condition bikes, handy accessories and excellent customer service with smiles. We hope you have a fabulous ride to explore the beauties of our hometown – Hoi An.
With Hoi An Bike Rental, you will have an amazing vacation in beautiful Hoi An.