Why choose Hoi An Bike Rental?
Find out why Hoi An Bike Rental is your best choice for renting motorbike/scooter in Hoi An.
Perfect-Condition Bike
At Hoi An Bike Rental, we provide you with perfect-condition bike (good brakes, tires, mirrors, horn,…). The maintenance is regularly performed to detect any problem. Before delivering to you, bikes have been thoroughly inspected to ensure you will not experience any trouble with the bike during your riding.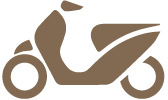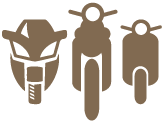 Variety of Bike Models
Hoi An Bike Rental provides you with variety of motorbike/scooter models which helps you easily choose your favorite bike:
Honda Air Blade: Strong scooter
Honda PCX: Western-style scooter
Yamaha FZ150i: Sport bike for who loves real motorcycle
Full Tank of Petrol
At most of motorbike rental services in Hoi An (and other services in Vietnam also), the bike is delivered to you with almost empty tank. Then you have to find a gas station to refuel before the trips. But at Hoi An Bike Rental, you will not face that bad experience. The bike always comes with a full of tank so that you can immediately start your trip.


Useful Accessories
In addition to the bikes' quality of being new and reliable, we provide our customers with a full range of accessories which make your trips more convenient and relaxing:
2 x 3/4-Face Helmets
2 x Rain Ponchos
Phone Holder (helpful for navigation by smartphone)
Medical First Aid Kits
Emergency Mobile Phone (charged and paid already)
List of Destinations in and around Hoi An
Easy to Book a Bike
With Hoi An Bike Rental, you easily book bikes before arriving in Hoi An. You can easily make and online booking on our website, or text/call to WhatsApp +84 9611 72420, or contact us at Skype (hoianbikerental), Facebook (fb.com/HoiAnBikeRental). If you would like to cancel the booking, feel free to let us know. No charge, no complain. We are always happy to assist you.


Free Delivery and Pickup
We support to deliver and pick up at any accommodation in Hoi An. We will give you key instruction to drive carefully and safely. In addition, we are willing to advise or support you on any of your trips in Hoi An.
Easy for Deposit
When hiring the bike from Hoi An Bike Rental, you need to leave a deposit. But it should be easy for you. You can choose one of options to leave with us: driving license, personal ID card, credit card, original passport or cash (2 mil. VND for Standard / Standard+ Bike, 4 mil. VND for Premium Bike or Motorbike).

24/7 Roadside Assistance
Helping you have a safe and relaxing trip in Hoi An is our top priority. We are 24/7 available to support you whenever you need a help. A topped-up mobile phone is placed inside under-seat compartment of the bike. Feel free to use it to call us anytime you need a support at +84 9611 72420 (WhatsApp available).