Why choose Hoi An Bike Rental?
Find out why Hoi An Bike Rental is your best choice for hiring motorbike in Hoi An.
Perfect-Condition Bikes
At Hoi An Bike Rental, we provide you with perfect-condition bikes only (good engine/brake/tire/horn/mirror). Almost all of our bikes are new or near-new (we fresh our fleet after 24-36 months). Perfect-condition bikes help you have a safe and relaxed riding to explore the beauties of Hoi An and surroundings.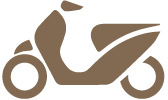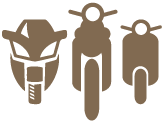 Variety of Bike Models
We provides you with a full range of motorbikes/scooters, so you can easily choose the bikes that suit your needs:
50cc automatic scooters: Kymco Like 50cc (automatic), SYM Passing 50cc (automatic)
110-155cc automatic scooters: Honda Air Blade 110cc/125cc, Honda Vision 110cc, Honda PCX 125cc/160cc, Yamaha NVX 155cc, Honda Vario 160cc
Semi-automatic bikes: Honda Future 125cc
Manual motorcycle: Yamaha FZ150i 150cc, Yamaha MT-15 155cc, Yamaha XSR 155cc, Yamaha R3 300cc
Handy Accessories
In addition to perfect-condition bikes, we provide you handy accessories which help your ride more safe and relaxed:
High-quality helmets (we offer children helmets for kids also)
Mobile phone holder (helpful for navigation by Google Maps, Maps.Me)
Rain ponchos, First aid kits
Emergency phone (for roadside support call)
Helpful tips with scenic and safe predefined routes


Full Tank on Delivery
Almost all of the bike shops in Vietnam offer you a bike with an empty tank or just a little bit of gas enough for some km riding. You have to find a gas station to refuel before the trip. But at Hoi An Bike Rental, we do it in a contrary way. We deliver you bikes with absolutely full tanks of petrol, so you can start your ride immediately. When finishing the ride, you are free to choose to fill the tanks up or pay for the difference. We recommend you to pay for the difference of the tanks because it is convenient for you and helps you avoid scams at the gas stations.

Easy to Book a Bike
It is very easy to book bikes with Hoi An Bike Rental. You can easily make an online booking on our website, or text/call to WhatsApp +84 9611 72420, or contact us via Facebook (fb.com/HoiAnBikeRental). If you would like to cancel your booking, feel free to let us know. No charge, no complaint. We are always happy to assist you.


Free Delivery and Pickup
We support you for delivery and pick up at any place in Hoi An. On delivery, we show you brief instructions with helpful tips for riding in and around Hoi An. If you do not have any riding experience, we are happy to assist you for practice on a quiet road (but we recommend you should not ride bikes in Vietnam without riding experience).

Scenic and Safe Routes
To help you have a fabulous riding experience to explore the beauties of Hoi An, we offer not only great bikes but also helpful information for riding in and around Hoi An. A list of all attractions with scenic and safe routes to My Son, Golden Bridge, Hai Van Pass,… (predefined Google Maps) will be sent to you to support your riding in Hoi An and surroundings.


24/7 Roadside Assistance
Helping you have a fabulous ride in Hoi An is our top priority. We are always available to support you whenever you need help. You can easily catch us via WhatsApp, Facebook, Live chat, Call, SMS… Please feel free to contact us for any support via hotline +84 9611 72420 (WhatsApp available).