Followings are 6 important notice you should notice when riding a scooter or motorbike in Hoi An. Read and follow the tips to help you safe on the road.
1. Ride slowly and safely
Hoi An is quite small. It's just less than 5km from the city centre to Cua Dai Beach, and less than 6km to An Bang Beach. The distance between Hoi An and Đa Nang is about 20-35km (upon where your destination is), between Hoi An and My Son is about 42km. Overall, allmost all of attractions in and around Hoi An are not far away from the city centre (old town are). And the paths are also quite easy to travel.
Therefore, you SHOULD NOT RIDE FAST. Riding slowly can facilitate you to enjoy the beauties of Hội An. And most importantly, it's about your own safety. We believe that in traffic, slower means safer.
2. Always wear a helmet while riding
In Vietnam, it's a violation of law not wearing helmet(s) while riding motorcycles. Once finding you are breaking this rule, the policemen reserve the right to stop you on the street and fine you. Actually, they can be a bit easier for tourists at tourism cities like Hoi An, Đà Nẵng, because they may understand that international tourists don't have much knowledge of Vietnamese law. However, it's not about the policemen and the fine, it's about your own safety. Wearing a good quality helmet will protect your most important body part against any accident.
At Hoi An Bike Rental, you'll be provided with two 3/4 helmets at no extra charge. Don't worry in case you have a larger head size, we have full-faced helmet with L and XL size for you as well. Kids' helmets are also available. All of the helmets of ours are in good quality and imported from Thailand.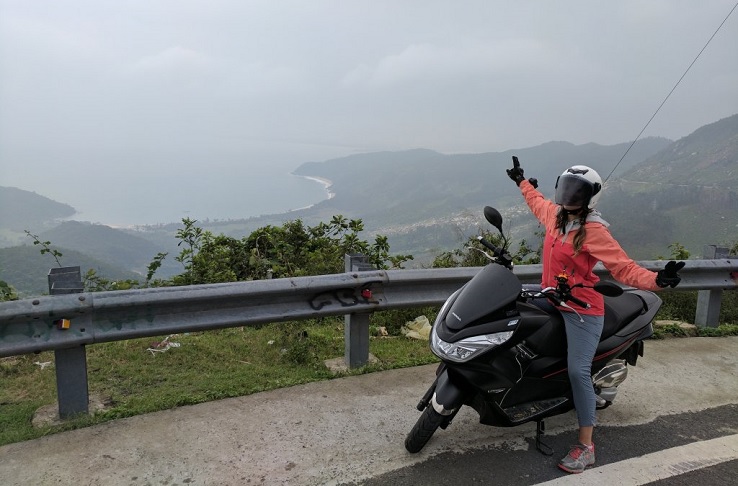 It will be amazing for riding to the top of Hai Van Pass on Hoi An Bike Rental 's bike.
3. Alcohol is a big NO-NO while riding
Beer and wine are not good for driving and you are totally clear about this. Once you've got yourself some drinks, you must not drive. Vietnam's traffic is sometimes crazy. Once drunk it's hard for you to ride safely.
It's better for you to sit on the backseat of a sober friend. Or pay a bit to get the bike's owner to come to pick the bike up, and you wave a taxi back to your hotel. At Hoi An Bike Rental, in case you are drunk, you can just call us to bring you and your bike back to your hotel at just $10.
4. No worries to use the honk
Honking has been a special part of Vietnam traffic culture. You can hear that "beep, beep…" sound everywhere around Vietnam. The sound is so merry! Lol. You shouldn't be afraid of honking. Honking is to give people around an attention.
Honking in Vietnam doesn't mean you are impolite or angry at something. Simply it's a short notice: "Hey, my bike is coming. Get noticed!"
5. Pay attention when turning left/right
You need to turn on the signal light to inform people about your left or right turning. If possible, you should wave your hand to make a more noticeable turning signal. This helps the drivers behind learn that you are about to turn.
You must not make a sudden turn without noticing people in advance by signals. After done the turning, turn off you signal. If not, the others would get embarrassed about you direction, crash might happen then.
Caution: Some drivers may not get your turning signals, you'd better observe really carefully through rearview mirror before turning.
6. Avoid riding at night
At night (especially after 9pm), there can be a lot of reckless alcoholics traveling on the streets. Also, night may reduce your eyesight. Therefore, it's best if you can avoid riding at night as much as possible.