Riding a bike is the best way to explore Hoi An and surroundings. We ensure this. You will be free to go anytime anywhere you want. You don't need to wait for a taxi or will not be tired with a push bike. Almost all attractions in and around Hoi An are easy to access by bike.
But riding a bike in Hoi An is a little bit adventurous also (maybe same in any other places in Vietnam or Southest Asia). Traffic in Vietnam is a little bit crasy. So you should be careful when riding here in Hoi An. Followings are 6 important notice you should notice when riding a scooter/motorbike in Hoi An. Read and follow the tips to help you have a nice riding to explore Hoi An and surroundings.
Just clarify that traffic in Hoi An is totally different than Ha Noi or Ho Chi Minh City. It is easier and more relax to ride in Hoi An than Ha Noi or Ho Chi Minh City.
1. Ride slowly and safely
Hoi An is quite small. Almost all attractions in Hoi An are not much than 5 km of distance from your hotel: old town, beaches, vergetable villages, nippa palm village,… The most far attractions such as Hai Van Pass, Ba Na Hills (with Golden Bridge), My Son,… are around 50 km of distance from Hoi An. And the roads are easy to ride.
Therefore, you SHOULD NOT RIDE FAST. Riding slowly and carefully helps you be able to control any problem may happen on the way (rarely but we never know). And riding slowly brings you a chance to explore the beauties and local life on the way.
2. Always wear a helmet while riding
In Vietnam, it will be illegal for not wearing helmet(s) while riding a bike. If police see you riding without a helmet, they will stop and fine you. Actually, they can be a bit easier for tourists at tourism cities like Hoi An, Da Nang, because they may understand that international tourists don't have much knowledge of Vietnamese law. However, it's not about the police and the fine, it's about your own safety. Wearing a high-quality helmet will protect your most important body part against any accident.
At Hoi An Bike Rental, you'll be provided with two 3/4 helmets at no extra charge. Don't worry in case you have a larger head size, we have full-faced helmet with XL, XXL size for you as well. Children are also available. All of the helmets of ours are in high-quality.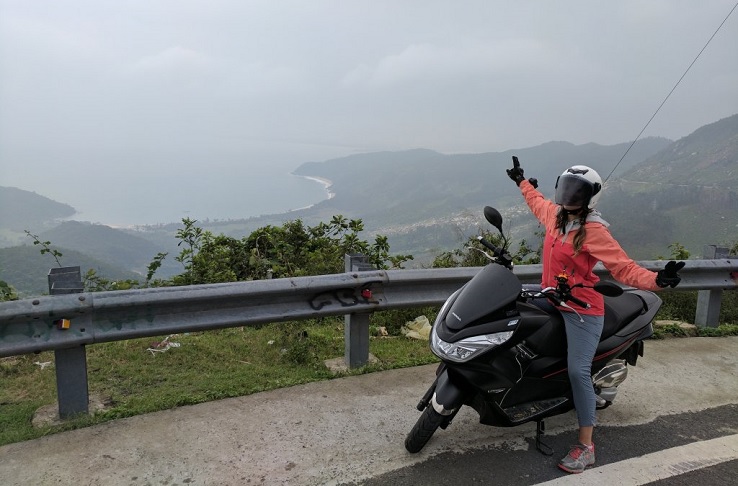 It will be amazing for riding to Hai Van Pass on Hoi An Bike Rental 's bike.
3. Alcohol is a big NO-NO while riding
Beer and wine are not good for driving and you are totally clear about this. Once you've got yourself some drinks, you must not drive. Vietnam's traffic is sometimes crazy. Once drunk it's hard for you to ride safely.
It's better for you to sit on the backseat of a sober friend. Or pay a bit to get the bike's owner to come to pick the bike up, and you wave a taxi back to your hotel. At Hoi An Bike Rental, in case you are drunk, you can just call us to bring you and your bike back to your hotel at just $10.
4. Not be afraid of pushing the horn
Honking has been a special part of Vietnam traffic culture. You can hear that "beep, beep…" sound everywhere around Vietnam. The sound is so merry! Lol. You shouldn't be afraid of honking. Honking is to give people around an attention.
Honking in Vietnam doesn't mean you are impolite or angry at something. Simply it's a short notice: "Hey, my bike is coming. Get noticed!"
5. Be careful when turning left/right or passing intersection
You need to turn on the signal light to inform people about your left or right turning. If possible, you should wave your hand to make a more noticeable turning signal. This helps the drivers behind learn that you are about to turn.
You must not make a sudden turn without noticing people in advance by signals. After done the turning, turn off you signal. If not, the others would get embarrassed about you direction, crash might happen then.
Caution: Some drivers may not get your turning signals, you'd better observe really carefully through rearview mirror before turning.
6. Avoid riding at night
At night (especially after 9pm), there can be a lot of reckless alcoholics traveling on the streets. Also, night may reduce your eyesight. Therefore, it's best if you can avoid riding at night as much as possible.
7. Be careful at the dangerous turn on the way to Da Nang (closed to An Bang Beach)
About 400m after you finish the intersection with traffic lights closed An Bang Beach, you will meet a turn that is curved and very dangerous. There were a lot of accidents happening there. So should be careful when riding there. Slow down, have good look around, you should not ride beside any car or bike.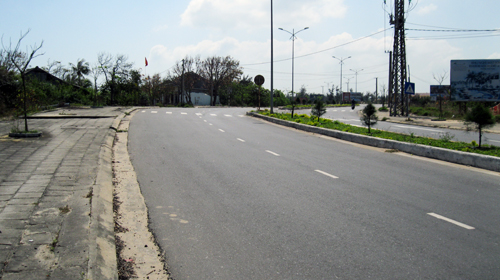 Cured dangerous turn on the way to Da Nang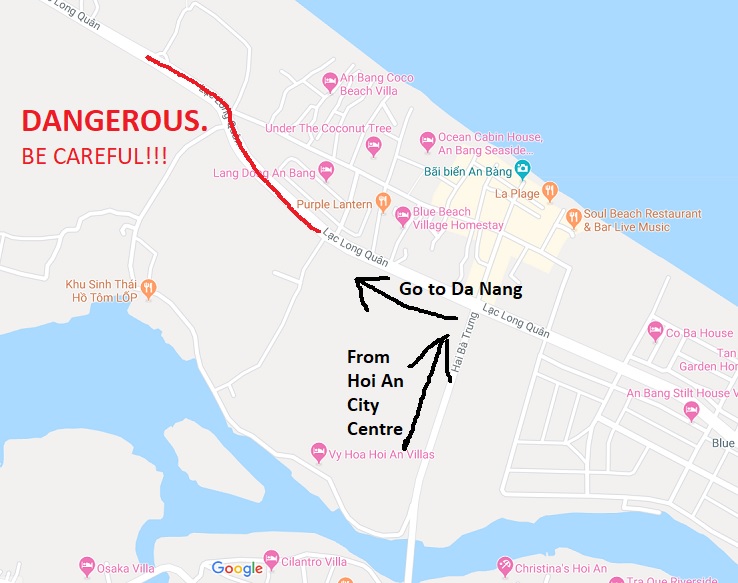 It is here on Google Maps